The Greek Larder
2014 – 2015
New Restaurant Launch with top Greek Chef, Theodore Kyriakou, on a new London restaurant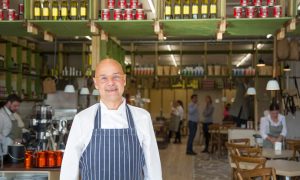 Brief
Renowned Greek Chef Theodore Kyriakou approached us to represent him in the marketing of a new London restaurant after we had met and worked together on some recipe creation using Tims Dairy Greek style yogurt.
Process
Throughout the project we worked closely with Theodore, his co-founder Panos Manuelides and shareholders to realise their vision of bringing inspired, styled Greek cuisine and the finest produce from the Eastern Mediterranean to London's increasingly vibrant food scene. Our role was to share in the launch plans and ideas and to support the direction at each stage of the project. As part of the overall brief we arranged photography, worked with design agencies on branding, menus and marketing materials, managed and oversaw the launch, coordinated the design of the website and developed a social media campaign to support the launch. We also spread awareness to press and media. Press coverage to date has been widespread and customer feedback very positive.
Actual Outcome
That idea has now reached fruition with the opening of The Greek Larder, restaurant and delicatessen, in Argent's King's Cross site in the Arthouse building on York Way, London. It has been trading successfully since late 2015.