Munchy Seeds Repositioning Project
Munchy Seeds is a wonderful family business and brand who've been established for over 25 years in Suffolk. The story started on Lucinda Munchy's family sheep farm in New Zealand, growing up as a child in a carefree environment. Her Granny would always send her and her friends off with pocketfuls of her delicious, energy fuelled roasted seeds.
As the UK's most established seed brand, they dry roast and mix a whole range of seeds with different flavours to offer as sweet and savoury snacks. They also offer a bulk range for foodservice.
Through the pandemic we have been working with them on their Sales & Marketing strategy, their content and their social media.
We have also worked with them to reposition the brand from 'snacking' to 'sprinkling' by offering some reformulated and new flavours in a range of Breakfast Boosters and Savoury Sprinkles.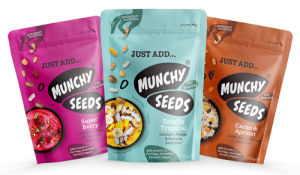 The breakfast boosters are ideal for adding taste and multiple health benefits to porridge, cereal, yogurt, smoothies and even sweet bakes like muffins and pancakes. They are in 125g pouches and come in Super Berry, Totally Tropical and Cacao & Apricot
The Savoury Sprinkles are pitched as the 'third condiment' for your dining table to add crunch, flavour, fibre and nutrition to all your favourite dishes and salads. These are in 125g pouches in Toasted Tamari (mega omega 7 seed mix), Spicy Peri Peri and Warm Cumin and Fennel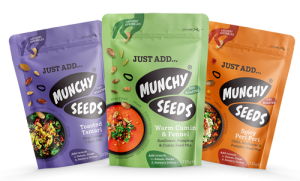 They are all available online with Munchy Seeds and soon to be available on Ocado.