Tims Dairy Yogurt Rebrand 2020
There's been nothing more challenging for the food industry in the past 20 years than 2020's Covid pandemic. Foodservice fell off a cliff overnight and retail grew in huge demand, both in store and significantly online. For many manufacturers and producers this has meant being incredibly agile to survive and working closely together with suppliers and customers to share in the effort.
During this period we were working with the fantastic team at Wonderland Design to "Create Amazing" through a fresh new look, with better stand-out on shelf and clearer messaging on the pot for our incredible clients, Tims Dairy. The aim was to bring our brand ethos to the fore in a modern, fresh and happy way.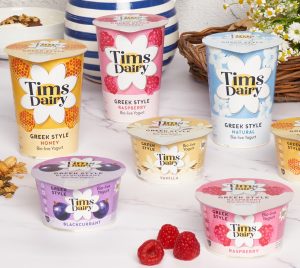 The inspiration for the new look was their beautiful daisy logo which now has pride of place on the front of the pot. The key message of "Greek Heritage. British Made" comes through and their support of UK farmers continues, using only fresh British milk. Their Greek style natural yogurt has no added sugar and the technical team reduced the sugar in the flavoured yogurts without any compromise on great taste or quality.
"We wanted to bring some energy, freshness and optimism to the yogurt category – and a thank you to excite our loyal fans, old and the many new ones from the last few months. We have been 'Creating Amazing Since 1949' and we're not going to stop now!" says Managing Director Chris Timotheou.
We began the project just before the onset of Covid 19 and decided to forge ahead to bring some excitement and positivity to the category as we all try to bounce back stronger from Covid. See the range here.
Look out for the packaging on shelf in Waitrose, Ocado, selected Asda, Co-op, Whole Food Markets, and many fabulous farm shops and delis up and down the country.