Munchy Seeds Reposition from Snacks to Vegan Sprinkles
Munchy Seeds Shakes Up Seed Sector with New Vegan Sprinkles Range
We worked with family seed business, Munchy Seeds, to bring a new world of seed excitement and reposition this healthy snack brand as a healthier for you topping brand, with the launch of its new plant-based Savoury Sprinkles and Breakfast Boosters.

Recognising the growing demand for making meals more nutrition-rich we created the 'Just Add…' range of seed mixes, pitched to consumers as the 'third condiment' to add health, crunch and great taste to every meal.
The new range takes seed innovation to the next level with six new sweet and savoury blends that redefine seeds as a multi-use essential for cooking, topping and sprinkling to add crunch, flavour and a massive nutritional boost.
"Everyone knows that seeds are good for you – they are packed with protein, fibre, vitamins and minerals – and yet they still need inspiration as to when and how to use them," explains Lucinda Clay, co founder of Munchy Seeds. "Our new Savoury Sprinkles and Breakfast Boosters remove the guess work and give people a clear use for our delicious, flavour-packed seed mixes. From adding to salads, soups and savoury dishes, to blending in a smoothie, using in porridge or granola, or mixing into yogurt, we're setting out to show the nation just how easy it is to add seeds to your daily meals."
Using state of the art production methods and all natural ingredients, the seeds are dry roasted for maximum flavour and are high in fibre, protein and a great source of Vitamin E. The new range is also vegan-friendly, gluten and wheat free.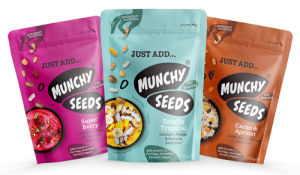 The new Breakfast Boosters are available in three tasty flavours: Super Berry Goji Berry, Chia & Cranberry Seed Mix, Totally Tropical, Coconut, Mango & Banana Seed Mix and Cacao & Apricot, Cacao, Apricot & Date Seed Mix. Use these sweet and fruity combos to breathe new life into porridge, yogurt, pancakes, granola or smoothies.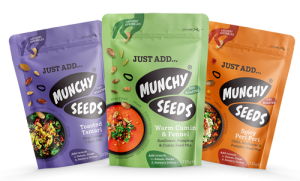 The new Savoury Sprinkles include three brand new flavours: Toasted Tamari Mega Omega 7 Seed Mix, Spicy Peri Peri Chilli, Sunflower & Pumpkin Seed Mix and Warm Cumin & Fennel Sunflower, Pumpkin & Cumin Seed Mix. They are the perfect topping for everything from soups and salads, to curries, tagines and pasta dishes.
Our role was to research the need for these products, create the all new branding brief and ensure a successful marketing launch. We created all content and strategy and project managed this campaign from beginning to launch.